Ready to put on your Sherlock Holmes gear and HUNT?! It's on! July 1st - 10th, the Eclectic Artisans are hiding an American Flag in their shops and waiting for YOU to find it! There are 15 shops participating, which means you have to find 15 flags! Each shop has hid ONE flag in ONE of their listings. Hunt and FIND!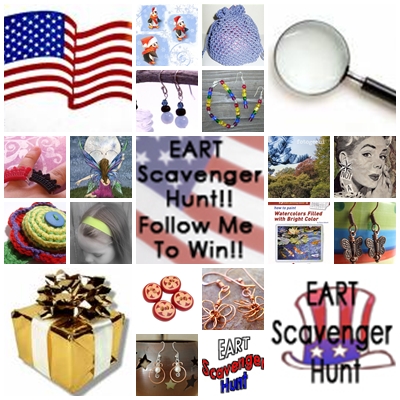 Be one of the FIRST FIVE people to EMAIL ME the listing LINKS (all 15) as to where the flag is hidden in each shop and you will win YOUR CHOICE of THREE of the gifts above! Email me ALL QUESTIONS AND ANSWERS TO:
MichellesCharmWorld@Gmail.com
. NO comments here please! We don't want to give away the answers!! The first person to email me all 15 flags will get to pick 3 of the 15 prizes, 2nd person gets to pick 3 of the 12 prizes that are left, 3rd person gets to pick 3 of the 9 prizes that are left and the 4th person gets to pick 3 of the 6 prizes that are left and the 5th place person gets the remaining 3 awesome and fabulous prizes! This is going to be FABULOUS! Now Read below to see the shops that are playing and what their prize is! Click on the shop and start hunting!!!
Jeraly Designs invites you to take a look around her shop and find the flag! Her prize is this wonderful pair of earrings!
Pop into MichellesCharmWorld and take a look at a colorful paradise while searching for the flag! You can win your choice of a red or black Princess Crown Ring!

DivaDea
offers these gorgeous buttons as a prize from her shop of polymer creations! Be sure to step into this fun and colorful shop and look for the flag!


At HairbowsWonderWorld you will find an amazing assortment of goodies for your hair to shine at special events! Even some beautiful bridal bouquets! Tale a look! Her prize is a PDF instruction on how to make a ribbon penquin!

Jaybird Designs is offering this beautiful treasure bag as a prize in your choice of 1 of 2 colors! This shop is definately one to stop and enjoy while hunting for your flag!
TCPJewelry has a colorful prize set being offered to the winners! Please stop in and browse this wonderful oasis of jewelry while hunting for the flag!
Enter a tranquil universe when you head into Indigo Orchids shop, jewelry that makes your mind wander while you try and decide what to buy! Enjoy your time here while huntin for the flag! She is giving these amazing earrings as her prize!
AweShop is a shop full of jewelry that gives you a tranquil and relaxing vibe! Stop in and take a look around at everything while hunting for the flag! She is offering up these pretty little earrings as a prize!
WeeWoobies is a colorful and creative shop full of an assortment of bright and fun goodies! While searching for the flag check out the fabulous pin cushion that she is giving away as a prize!







Visit Punky N Munky for the most AMAZING hair trinkets EVER! You will be amazed as you hunt for the flag in this shop! She is offering this ribbon headband as her prize!

TashaDesigns invites you to stroll through her shop and look through all the treasures as you hunt the for the flag! She is giving these pretty butterfly earrings as her prize!
KellsCreations
is offering this fantastic ACEO to the winner of her prize! Now head on over to a colorful shop of jewels and look for the flag!
FotoGeeni
offers this gorgeous print as her prize! Her shop is a look through her lens at New Zealand and it's surrounding areas! Be sure to stop and look around while in her shop! It's a mini vacation!
SongBirdSpectre is offering up the most fabulous print as her prize! While looking for the flag, take a minute to enjoy all that her shop has to offer!!
TheCreatorsPalette
has this great book on how to paint watercolors as her prize! This is your last stop in the hunt for the flag! Take some time to enjoy all the work in her shop!
******************************************************************************
READERS! Just FOR YOU! We ARE ALL also Offering up a 20% discount off your purchase before shipping in ANY of the shops listed! Just use code: ScavengerHunt20, This code expires on July 10th. (To use this code, please put it in the notes to seller upon check out and wait for a revised invoice!)
NOW GET HUNTING! Remembe to EMAIL ME all your answers at one time: